It's Earth Week, and we're highlighting college campuses across the country that have been recognized for their green efforts! With more than 20 million people attending college in the U.S., these institutions have the potential to make a huge impact – or reduce their impact – on the environment. We admire their commitment to sustainability as they move toward renewable energy, zero waste, and reducing their carbon footprints. Read on to find out what these colleges are doing to earn reputations as the most earth-friendly in the nation.
1. UC Santa Barbara | Santa Barbara, CA
Was the first University of California (UC) to establish a Green Initiative Fund (known as TGIF) as well as a Renewable Energy Initiative Fund, and initiated the California Higher Education Sustainability Conference (CHESC).

47% of academic departments offer some sort of sustainability focus in their curriculum, for a total of 321 "green" classes.

94% of students at UCSB bike, walk or take the bus to campus, which offers 10,000 bike parking spaces and 10 miles of bike paths.

Over 200 faculty members at UCSB take part in eco-research in an effort to lead the way in sustainability education and breakthroughs.

44 of the buildings at Santa Barbara are LEED certified, and more than 2,000 photovoltaic solar panels have helped the college cut their electrical usage by one-third.
2. Lewis & Clark College | Portland, OR
Lewis & Clark College has reduced greenhouse gas emissions by more than 30 percent over the last nine years.

In 2015, the Princeton Review ranked Lewis and Clark College as the #1 greenest college. Lewis & Clark Law School's Environmental and Natural Resources Law program is ranked No. 1 in the nation by U.S. News & World Report.
Has four buildings certified under the Leadership in Energy & Environmental Design (LEED) standards. All future new buildings on campus are required to meet LEED Gold standards or higher.

Partnership with Energy Trust of Oregon has resulted in energy- saving projects that have reduced the college's carbon footprint and saved over $800,000 annually in electricity and natural gas costs. Recent projects include the addition of LEDs and solar panels.

Lewis & Clark encourages green transportation options by offering a free eco shuttle between campus and downtown, a campus car-share program, electric vehicle charging stations, bike-friendly facilities, and more.
3. Middlebury College | Middlebury, VT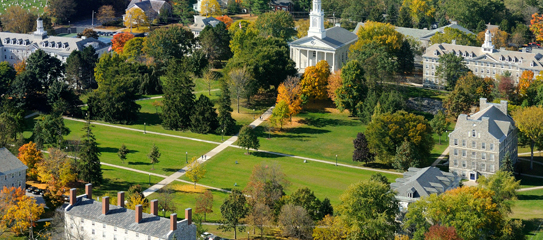 Middlebury aims to achieve c

arbon neutrality

by the year 2016. Compost and recycling efforts have diverted more than 60% of the waste on campus.

Committed to having 30 percent "real food" in the dining halls by 2016; "real food" is defined as grown locally within 150 miles, raised humanely, grown using ecological practices, and/or fair trade.  

Has two LEED-certified buildings, and all construction on new buildings must be LEED certified.

The school has incorporated sustainable tech such as groundwater exchange air-conditioning, low-flow faucets and toilets and solar panels.
4. University of Colorado at Boulder | Boulder, CO
18 CU-Boulder facilities have received LEED certifications, including five LEED platinum and 11 LEED gold ratings.

CU-Boulder is nearly at a 45 percent recycling rate — halfway to its goal of a 90 percent recycling rate by 2020. A new recycling center on main campus just opened. Coupled with expanded recycling efforts such as compost collections in all campus facilities, CU-Boulder expects to attain zero-waste — or near it — by 2020.

CU-Boulder's emission of global greenhouse gases (GHG) has flattened despite a nearly 19 percent growth in campus facilities since 2005. CU-Boulder expects to attain its goal of a 20 percent reduction in GHG emissions by 2020.

In 2012, all student government buildings at CU-Boulder achieved carbon neutrality.

Founded in 1970 as the Eco-Center, the school's CU Environmental Center remains the nation's largest on-campus and student-led environmental organization.
5. Oregon State University | Corvallis, OR
Oregon offers nationally recognized programs in sustainability studies like forestry, wildlife management, zoology, conservation biology, agricultural science and nuclear engineering.

22 exercise machines are connected to the power grid at OSU. When in use, these machines feed into the grid that helps to provide energy to the university's services and facilities. Since 2007, efforts like these

have cut the energy usage by two-thirds

.

The campus won the national 2015 RecycleMania competition by cutting its waste by 40%. They were also awarded the Green Power Leadership Award from the EPA in 2008.

The university has promised to achieve climate neutrality by 2025 and has a collaborative student initiative working to achieve this goal.
6. Green Mountain College | Poultney, VT
First college to reach climate neutrality through an innovative blend of efficiency, clean energy, and local carbon offsets; committed to adopt 100% renewable energy by 2020.

First in the nation to be named an EPA Energy Star campus, and earned a Gold Rating from the Association for the Advancement of Sustainability in Higher Education.

Biomass facility generates 85% of the heat used on campus, has solar array and windmill conceived and strategized by students and recent graduates.

Recognized in 2015 by the

National Wildlife Federation's Campus Wild Guide

for efforts to protect wildlife and restore habitats through native species landscaping and invasive species removal, a process students involving student volunteers.
7. Arizona State University | Tempe, AZ
ASU has one of the country's largest distributed solar systems, providing the university with more than 24 MW of power.

It has a LEED-Silver minimum construction mandate, offers "green bins" where students can deposit compostable food waste, reuses 12 tons of compost materials from its landscaping and has one of the most profitable campus Farmers Markets.

The college's entire Tempe campus is a nationally-recognized Arboretum – home to more than 900 species of flourishing plant life from around the world.

Nearly 100% of graduates from ASU's School of Sustainability are gainfully employed or enrolled in advanced studies.
8. University of Massachusetts – Amherst | Amherst, MA
One of the only public universities in the U.S. to install

permaculture gardens

on-campus, which educate students about sustainable farming practices, while also supplying the campus with fresh, organic produce.

UMass is rated the 25th most efficient among top-rated national universities by

U.S. News & World Report

and has been recognized for its commitment to leadership in sustainability, value and excellence in education.

Amherst is committed to achieving total carbon neutrality by the year 2050.

Climate scientists at the University of Massachusetts Amherst are national leaders in their field.

9. University of New Hampshire | Durham, NH
C

ampus-wide green initiatives

 include revolving energy efficiency fund, a cogeneration plant powered by landfill gas, solar panel installation, and a greenhouse gas emissions inventory.

Study abroad programs at UNH that combine sustainability and an international experience include the EcoQuest program in New Zealand that focuses on interdisciplinary sustainability studies, and the EcoGastronomy study abroad programs in Italy and France.

Fruits and vegetables grown on campus farms are often used in campus dining halls, all food waste from the dining hall is pulped and composted on campus, and UNH Dining hosts a community-wide Local Harvest Feast every fall of exclusively local foods.

UNH's EcoLine, completed in 2009, is the nation's first major university to create a landfill gas-to-energy project. The school is the first to use landfill gas as its primary fuel source, which will power up to 85 percent of the campus's electricity and heat.
10. UC Irvine | Irvine, CA
In 2008, UC Irvine vowed to improve its energy efficiency by 20 percent by 2020, then hit that target seven years early, making it the first U.S. school to achieve that goal.
The school's water-recycling program saves more than 210 million gallons per year.
Has three on-site solar power projects and a 19-megawatt cogeneration plant with turbines powered by combustion and steam;
Pledged an additional 20 percent energy reduction by 2020; committed to going carbon neutral by 2025.